The 90's was a great time to be born in. It was before the advent of the internet so our childhood wasn't spent staring at a computer screen but actually going outside and playing with our friends. Every game had a new set of rules every-day and the bickering fights that ensued were more fun than one can imagine. Let's take a walk down memory lane and I'm sure you'll feel the nostalgia of our child-hood when you recall playing these games.
Gilli Danda our very own version of cricket.
This game is played with a large wooden stick known as the danda which is used to hit another stick reduced on both sides known as the gilli. The aim of the game is to hit the gilli with the danda as far as possible.
Kho Kho
Kho kho is definitely one of everyone's childhood favourites and although this game needs no introduction because of its sheer popularity let me elaborate a little. It involves two teams which are required to chase each other down and try to get the opposite team 'out' by tagging their own team players.
Kabaddi
Kabaddi also widely known as the national game of India is incredible amounts of fun. The game might not be all that popular but is regaining momentum. There are two teams consisting of seven players, each of which have their own designated areas. The aim of the game is to go into the other teams area and get them 'out' all while repeating the word kabaddi without losing your breath.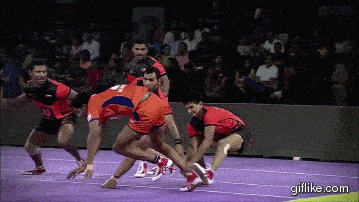 Catch-catch
This is the simplest game ever and the best way to kill boredom. One simply throws a ball to their opponent who's only job is to catch it. Even then we all know that one person who had butter fingers and almost always dropped the catch!
Chuppa Chuppi or Hide and Seek
Luckily this is one of the games that hasn't lost its charm in the years. I don't even think this game really needs explaining! It's of the best games I've ever played. Running around as kids, making sure you don't get caught are the fond memories I remember every time I think of playing chuppa chuppi.
Chor-sipahi or chor-police
I've never met anyone who hasn't played this game and I'm sure you have too. There are two people, one is the chor and the other sipahi. The sipahi has to catch the chor is order to win the game after which the titles are exchanges and the chor becomes the sipahi and vice-versa.
Gully Cricket
We Desis love our cricket so naturally we've invented our very own form of cricket where 'one tup' is 'out' and the stumps are merely pieces of sticks or rocks we found lying around the street. And of course if the ball left the make shift ground you out!